Most Expensive Perfume in The World
|
DKNY Golden Delicious Million Dollar Fragrance
Price: $294,117 per fl. oz.
This perfume  is not your usual fragrance because (a) it is everything but ordinary, (b) it comes in a gem-encrusted gold bottle, and (c) it will cost you a fortune for a sniff.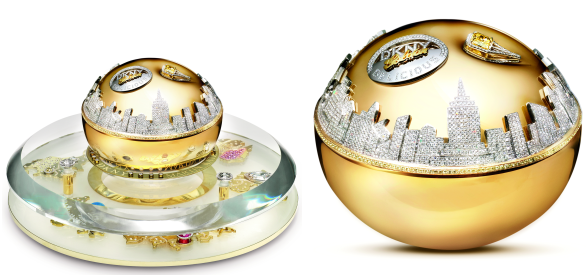 As you can see, the luxurious bottle and case is truly what makes this perfume stand out from the rest. And yes, you can blame the bottle for the price.
DKNY collaborated with Martin Katz, a renowned gems designer, and he designed this exceptional apple-shaped bottle for the perfume. The base of this bottle is made of 16K yellow and white gold. Then, he added 183 yellow sapphires, a 1.6-carat Brazilian turquoise Paraiba tourmaline, a 7.18-carat Sri Lankan Cabochon sapphire, a 3.07-carat ruby, and thousands other precious stones. Each of them were lined to form the New York City skyline.
As for the scent, it is all about sweet fruity floral. Its base scent is a mix of teak wood, sandalwood, and musk. But the main notes are red apple, plum, and African orange flower.
So if you have a million dollar to spare, maybe you can let us know how luxurious this expensive perfume smells.